HOVE has been helping growers for over 31 years, in commercial agriculture and cannabis production. Our consultative approach ensures that every design/layout, whether it is a modest size operation or an advanced automated one, is designed for future expansion and cost efficiencies.
As legislative changes help marijuana become a more mainstream crop in North America, HOVE International has the unique expertise to guide growers and help investors with their due diligence. By 2020, this market is expected to be over $65b
By designing environments that are scalable enough to address your current and future business requirements, you protect your investment while haveing the ability to quickly respond to any market changes.
HOVE helps clients design layouts for modest size operations, to technologically advanced systems with plant registration software.
The HOVE Cannabench Systems are universally applicable for maximizing space utilization, superior plant cultivation, operational efficiencies, labor costs reductions, and higher profits. High quality and first class workmanship, guarantee a long-life span, even with heavy workloads.
The Cannabench System can be used in every type of greenhouse, warehouse, or indoor grow facility. Gain more production area, while optimizing the working space between the benches. This also provides a better work environment, due to the crop being at the correct working height vs. being on the ground.
Different bench options that are available:
High quality ebb and flow trays, guarantees optimal irrigation and a dry surface after watering.
Galvanized steel mesh or aluminum in different shapes and sizes
Styrofoam plates, with PE-Foil, Fleece, or MyPex on top.
Growing gutters for special crops.
Poles and trellis systems for support of nets.
Different irrigation valves
Our benches can be fitted to different irrigation systems. Depending on your needs, you can add 1-way or 2-way valves. The watering groups can be controlled centrally or individually.
As a rolling or fixed bench – The Cannabench System has played a major part in production of many kinds of crops and plants, over the years.
We offer clients everything that is required for warehouse or greenhouse growing systems.
Consulting Services
Manual systems
Fully automated systems
Turn key designs
Fixed, rolling, movable or multilayer bench systems, gutter benches for increased air flow for flowering
Plant registration software
Lighting systems
Irrigation systems
Heating/cooling systems
Robotics/automated potting machines
Spare parts and everything a grower requires for optimal production
Environmental Monitoring and Control
Specific Advantages for growing marijuana on rolling benches:
Rolling Benches generally allow growers to utilize about 90% of the space in the greenhouse, while non-rolling bench arrangements often use only 60% of the space
Saving space as a result of the "first in first out principle" on the piperun's
Less space is needed for the internal transport of the plants
Central work area is possible allowing for more efficient working conditions
A much improved airflow within the greenhouse, underneath the benches, especially compared to crops grown at ground level. This reduces the risk of humidity induced diseases for the crop
Because of the improved air-flow under the benches, it becomes more energy efficient to create the appropriate climate conditions for growth in the greenhouse, leading in turn to lower energy costs
Irrigation, nutrients, disease fighting, growth regulator can all be applied in a precise manner with various automation possibilities
Allows for easy operation in greenhouses with multiple heating-cooling zones for the various stages in the plants life
Better working environment for greenhouse workers because the crop is at a correct working height and not on the ground
High efficiency in harvesting the crop
Streamlines all phases of production
Other important bench infomation:
Benches can be as low at 8" off the ground and up to 30"
Self leveling benches for uneven floors
No sharp edges or screws that employees to get cut on

Roll on benches: 4' = 4" Right side 4" Left side - Total roll is 8"

5' = 8" Right side 8" Left side - Total roll is 16"

6' = 12" Right side 12" Left side – Total roll is 2 feet
HOVE now offers another variation of bench - the Gutter Bench. It is constructed of heavy duty white PVC which is extruded like our aluminium benches. This provides excellent air circulation between the plants reducing excess moisture, i.e., mold and mildew issues.
Here are a few images taken 7 Acres Marijuana Farms from Kincardine, Ontario, a recent project delivered by HOVE International.
The two main automated potting machines for the cannabis industry:
The Javo Super automated potting machine (right) is a fast, versatile workhorse already in use at marijuana growing operations. The precise soil control system, combined with the millimeter-accurate drill, solid pot dispenser and advanced take-off system ensures that your operation will have perfectly-potted, consistently-grown plants every time. The Javo Super can handle pot sizes from 2 inches to 14 inches in diameter (7 gallon) with a soil bin that can be expanded to hold more than 4 cubic meters of substrate.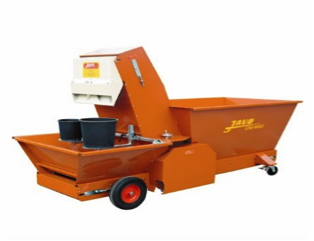 The Javo Unimax (left) is the solution for large pots. Capable of filling pots of up to 26 gallons, and with a soil bin that can be expanded to more than 4 cubic meters, the Javo Unimax can quickly and efficiently fill even your largest pots. As with the Javo Super, it provides the consistent filling that growers demand.
Our automated internal logistics systems for rolling bench production greenhouses then take daily operations to a whole new level of efficiency and flexibility.
What are the benefits of working with HOVE International?
Maximize labor, growing and operational efficiencies
Scalable designs to protect your investment
Efficient chemical and water usage
Automation to reduce inefficiencies
Optimal space utilization
Years of expertise, with excellent reputation and references
QUALITY: represent the highest quality of products in the industry
If you would like to learn more about how your business would benefit by collaborating with HOVE International and/or using a Rolling Bench system, please get in touch with us!